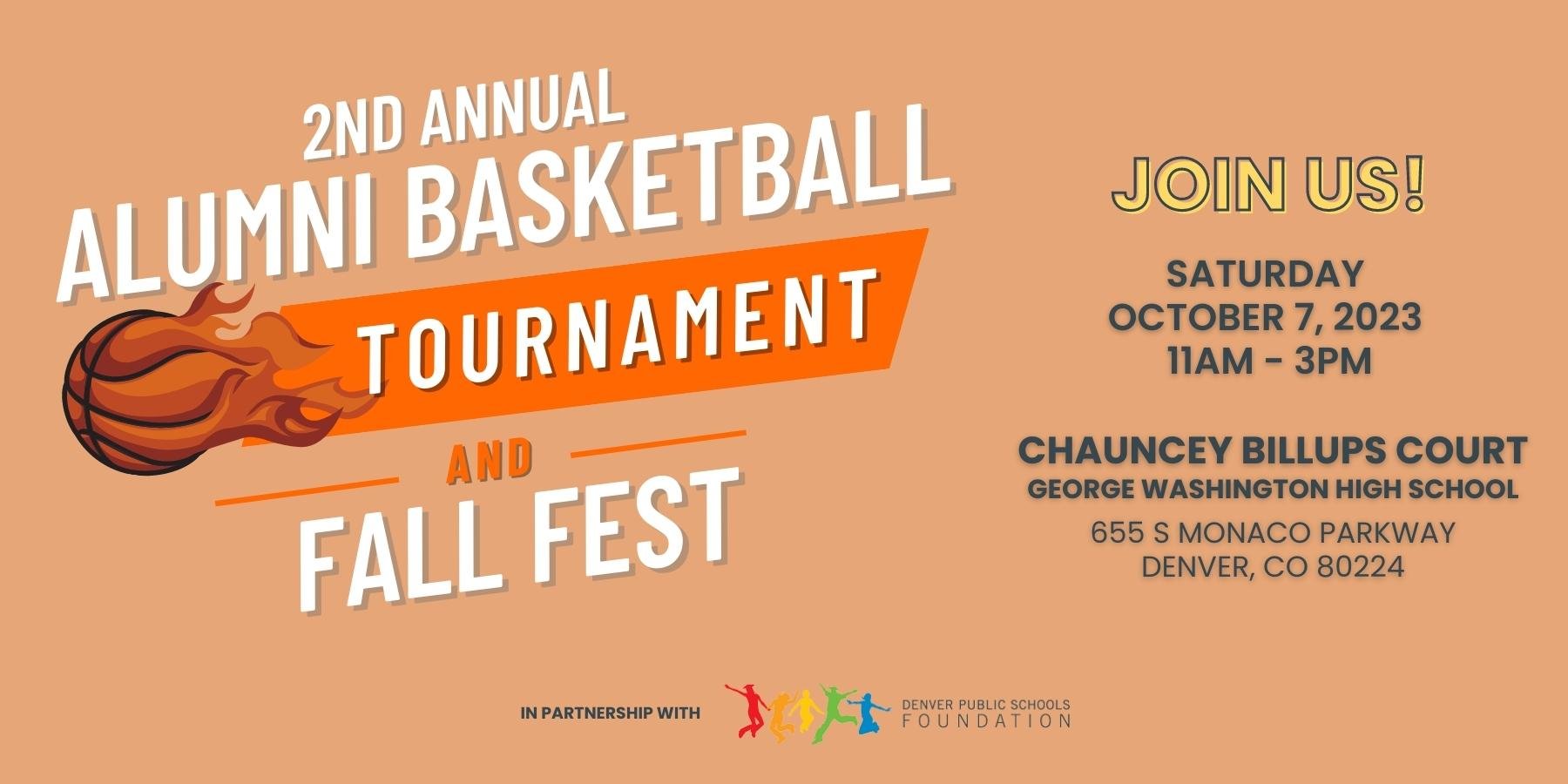 Join us for our Ednium's Second Annual Alumni Basketball Tournament and Fall Fest!
The 3-on-3 Basketball Tournament is limited to the first 16 Denver Public Schools Alumni teams.
There can be a maximum of 2 teams representing the same high school.
Not playing in the tournament? Then join us for Fall Fest!
We will have food trucks, vendors, carnival games and more, so make sure you come out and join us for this fun community event.
Please refer to the Frequently Asked Questions section below for more information.
What is the tournament process?
Each team can have a maximum of 5 players, with 3 players on the court during play. The 16 teams will be divided up into pools of 4 teams, the best of 3 sets will win matches.
We will be playing on Chauncey Billups Court at George Washington High School. Each game will be referred by a professional staff member. Athletic gear, including athletic shoes, are encouraged for players.
Yes! In addition to the Basketball Tournament we will have food trucks, vendors and carnival games to bring our community together to celebrate the fall season.
The tournament will start at 11:30AM
Chauncey Billups Court at George Washington High School, 655 S Monaco Parkway, Denver, CO 80224
Each game will be 7 - 10 minutes long.
How many games are there?
There will be a total of 37 games
Is there going to be food?
Light snacks and non-alcoholic drinks will be provided. Food trucks will be available for you to purchase and enjoy a variety of delicious meals.
Will there be alcoholic beverages?
There will be no alcoholic beverages
Do I have to be a DPS Alumni to play?
There needs to be at least 2 players on each team who are DPS alumni
Will this be held inside or outside?
The alumni basketball tournament will be indoors. If the weather permits, the fall fest will be held outdoors.
What else will be going on beside the basketball tournament?
There will be a fall fest consisting of games, a pumpkin patch, and bouncy castles for people of all ages.
What does the winning team get?
Each player from the winning team will receive $100. The winning school represented will receive a $10,000 donation and a traveling trophy.
No, referees will not be needed for the process of the tournament
Yes. Players of different genders can participate on the same team or individual teams
I have a question that isn't answered here, what do I do?
Please reach out to events@ednium.org and we will get back to you as soon as possible!