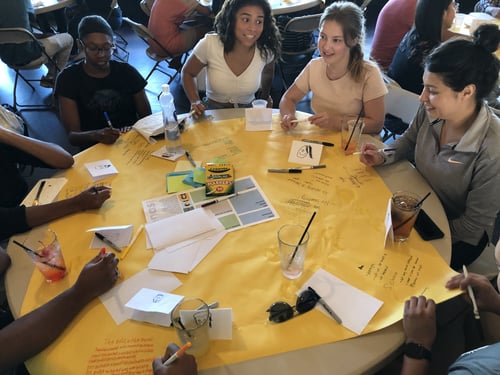 Our first Lab took place in summer and fall 2019. We worked with over 150 DPS alumni between 18 and 30 years of age over the course of four Labs to rethink education based on their recent experience and expert perspective and former students. Additionally, we gathered insights via an alumni survey, a stakeholder survey, and from 20+ stakeholder interviews. A group of alumni analyzed the themes and identified priorities, summarized below. These priorities serve as Ednium's "north star" as it works to create change within the DPS system.
Define SuccessMore Broadly
A broader definition of success can serve as the foundation for a new DPS graduate profile and will have implications for assessment and accountability.
There must be a greater representation of student voice in decisions made by DPS and it has to be meaningful. We need to ensure power sharing is authentic in all decisions so that opportunities and resources are provided equally to all communities.
Equity means recognizing, supporting, and celebrating diversity and creating policies that reflect this ethos so that all DPS users feel comfortable and genuinely respected.
Students must be better prepared for the responsibilities and challenges of life after high school. Real World expectations can be met through obtaining financial literacy, communication, and collaborative skills.
Students need exposure and experience working to gain the skills and knowledge they need to succeed in a chosen career. This will help nurture the need / drive to cultivate relevant knowledge.
2022 School Based Design Lab Final Reports