TeRay Esquibel is a DPS graduate from Abraham Lincoln High School. He was awarded the Daniels Fund Scholarship that gave him the opportunity to attend the University of Denver. While attending DU, TeRay dedicated himself to breaking down barriers to higher education within his community. After college, TeRay went on to participate and work with the El Pomar Foundation Fellowship program. Eventually, he found himself back at DU as an Admission Counselor serving Denver and Aurora Public Schools. In this role, TeRay engaged with DPS and its community to empower students (and their families) on their journey to furthering their educational horizons. To do this, he acted as a liaison between DU and external organizations dedicated to increasing the enrollment and persistence rates for students who were from underrepresented communities throughout Denver. Most recently, TeRay held the title of Partner of Community Partnerships and Advocacy at the Denver based philanthropic organization RootED. In this role, he led research, strategy, and community grant making. This is where the seed of Ednium: The Alumni Collective was planted and watered. TeRay now acts as the founding Executive Director of Ednium.
Senior Director of Strategy & Impact
A graduate of John F. Kennedy High School, Richard is responsible for all programs including the annual leadership development cohort, research and storytelling initiatives, and policy ideation and implementation. Prior to joining Ednium Richard served as IB Program Manager at George Washington High School, where he led school-wide professional development around equity and authentic student engagement and helped eliminate barriers to increase BIPOC student access and engagement in advanced courses. Additionally he served as the coach for the Student Board of Education team, a policy-focused student organization as well as the GW Powerlifting team. He is passionate about community engagement, volunteering with organizations such as Minds Matter Colorado and the Hugh O'Brian Youth Leadership Program. Richard holds a bachelor's degree in History and Spanish and a masters degree in Curriculum and Instruction from the University of Denver, and a certificate in Educational Leadership from Colorado State University Global. Richard resides in southwest Denver with his partner and two rambunctious puppies.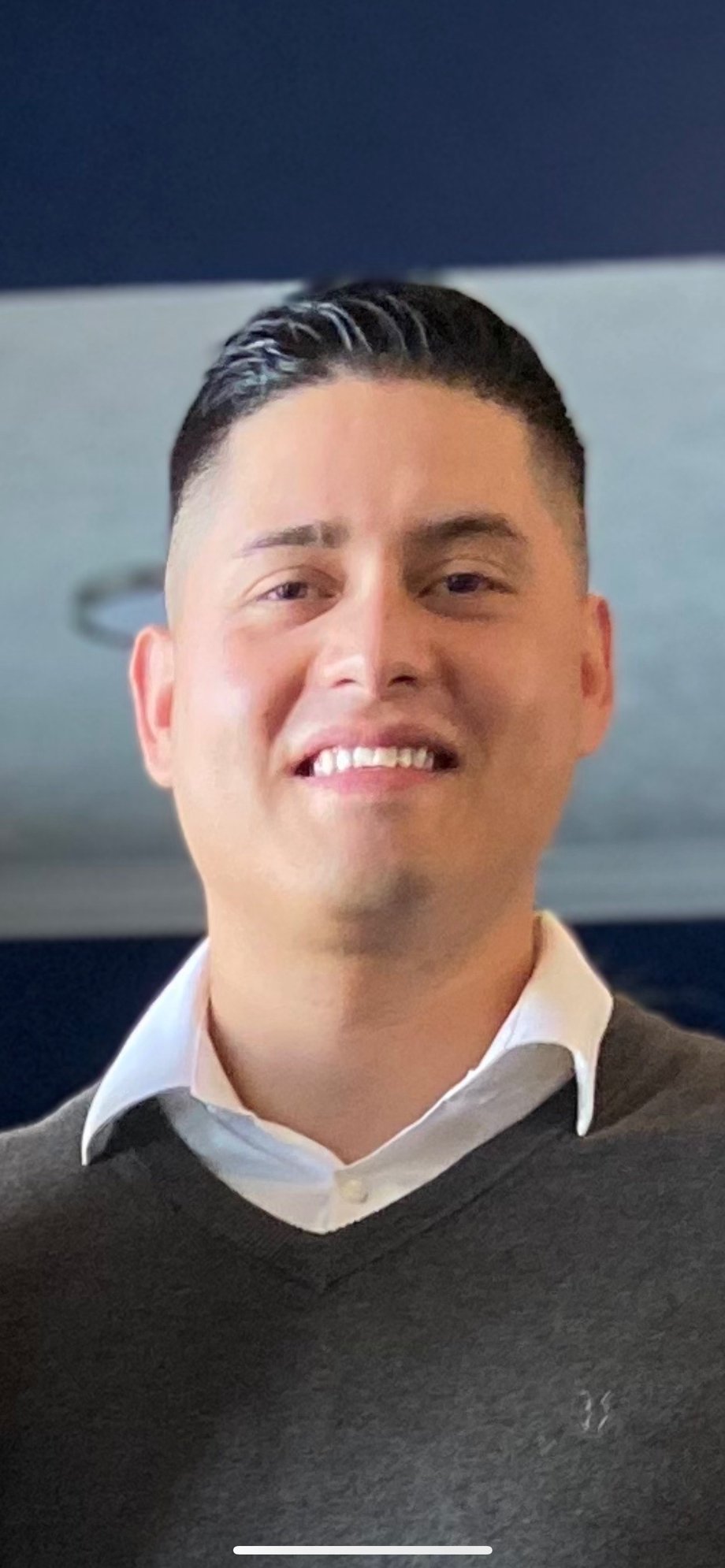 Alonso immigrated to Denver by himself as a teenager. He enrolled into Abraham Lincoln High School where he later graduated in the class of 2011. Upon graduation he moved on to Western Nebraska Community College where he graduated with an associate degree of science. Alonso then furthered his education at Chadron State College where he later graduated.
Ednium's vision and mission captivated Alonso's interests as a member of the Leadership Launchpad Cohort 3.
So when he had the opportunity to join the team, he didn't hesitate.
He is excited to contribute to the betterment of Denver's social infrastructure, so our youth can thrive.
Kathe is a Denver native raised by African immigrant parents. She is an East High School Alumni and earned a bachelor's degree in International Relations with minors in Psychology and Communications from the University of Colorado Denver. After graduating, Kathe started her career in the nonprofit world wanting to serve the communities she grew up within. Helping to create and develop programs, opportunities, and resources for communities in need has become a passion of hers and it is truly seen through her work. Finding her goals and values to be in alliance with Ednium, she joined the team! Kathe is excited to be a part of the team and is ready to help us get to the next level!
Sara's passion for helping people find their voice began when she found her own at the age of three. As she sat sandwiched between her grandparents in the front seat of their El Camino, she politely explained to them that their smoking made it hard for her to breathe.
Fast forward many decades later and Sara has built a career in communication, community advocacy, and stakeholder relations, working daily to ensure people participate in the planning and political processes that impact them. From public and environmental health to water and energy policy, neighborhood development to affordable housing financing, and from early childhood development to young adult leadership training, Sara has developed strategic communication and public outreach efforts that build awareness, promote knowledge, and incite action.
Today she is co-owner of Turn Corps, a four-year old firm that specializes in developing partnerships and relationships with community constituents to navigate complex issues and develop solutions on behalf of clients.
It is in her role at Turn Corps that she serves as a consultant to Ednium, helping with organizational strategy, communication, operations, and fundraising, and managing the Advocacy Accelerator - where Leadership Launchpad graduates receive support to take their educational projects to the next level.
Born and raised in a bi-cultural, bilingual home by his Colombian mother and American father in Ft. Collins, Bryan-David has been bridging differences and advocating for people and policies all his life. His personal experiences navigating political and social issues led to a career that began with educating young leaders from around the world through conflict resolution and mediation programs to help make a difference in local and global conflicts. He later founded a new organization to advocate for improved federal support of state and local initiatives and built coalitions among local governments and private businesses in his native Colorado. Over nearly twenty years, Bryan-David has been involved with developing strategy, organizing grassroots coalitions and running political campaigns. In 2016, he started Turn Corps to help clients better engage with communities experiencing change and to help disrupt or evolve old systems and usher in new ways of thinking and operating. He's been a driving force behind Ednium since its inception and continues to serve as a consultant helping to develop strategy, facilitate advocacy efforts and incubate new ideas.
For many years, Nathan has dedicated his professional career path on the social and academic advancement of Denver's students. As a native Coloradan, Nathan has worked in education for over fifteen years within community colleges, universities, and nonprofit organizations. He has served professionally as a career counselor, professional trainer, advisor/instructor, financial aid administrator, and director of both college access and success programs. Nathan is a proud TRIO Upward Bound Alum, holds a certificate in Global Career Development Facilitation, a Bachelor of Arts in Social Sciences from Colorado State University, and a Master of Education degree from Regis University. In his leisure time, Nathan enjoys spending time with his family and supporting Colorado sports teams
Linda Quintanar serves as the Director of First-Generation Initiatives and the Volunteers in Partnership (VIP) program at the University of Denver. She brings more than 15 years of experience serving on state-wide advisory committees and University task forces, working with students, families, and educators of Denver and Aurora public schools. Linda's passion to increase college access and retention of historically underrepresented students in higher education stems from her own journey as an immigrant and a first-generation student. Linda volunteers her time and serves on the board of Keeping the Dream Alive, a non-profit organization dedicated to sharing post-secondary advising strategies for Colorado's DACA and undocumented students. Born in Chihuahua, Mexico and mother of four current Denver Public School students, Linda is a DPS graduate alongside her husband.
Josh Scott currently serves as a board member for several high-growth technology companies including Betabrand, Havenly and Artifact Uprising. Previously, Josh was President of Guild Education and co-founded Craftsy, which was acquired by NBCUniversal in 2017. At Guild Education and Craftsy, Josh led Product, Marketing and Operations teams through periods of high growth. Prior to Craftsy, Josh worked for eBay, Home Advisor and Bain & Company and has degrees from Michigan and Berkeley.
Board Member & Alumni Partner
Upon graduation, Ousman committed to a year of service with Americorps City Year, where he worked at Miami Central High School preparing students with the social, emotional and academic skills and mindsets to succeed in school and in life. After City Year, he moved back to Denver and worked in the banking industry as a treasury management representative with FirstBank. During his time at FirstBank, he volunteered with ALG as the Youth Empowerment Program facilitator. After two years as a volunteer, he joined the ALG team as a Program Coordinator.
After starting his career as a teacher, Miguel left the classroom to lead an education nonprofit focused on helping students on the path to college. There, he led the organization's strategy and gained hands-on experience with funders.
In 2000, Miguel joined the Daniels Fund in Denver, Colorado. As a senior program officer concentrating on education in Colorado and New Mexico, Miguel saw how access to health care and quality education are naturally linked – an observation reinforced by the impacts of the coronavirus pandemic. Miguel's ardent belief in community-informed grant making, and his desire to help address inequities exacerbated by public health crises, brought him to his role as a senior program officer focused on adult recovery and early childhood social emotional programs. Bolstered by more than twenty years of experience in education and philanthropy, Miguel joined the Colorado Health Foundation's philanthropy team in 2020 where he manages the priority areas of adult recovery and early childhood social emotional development. Miguel grew up in a variety of neighborhoods across the Denver-metro area but has called Aurora home since the early 1980s. Strongly influenced by his Chicano and Korean heritage, he is proud of his achievements as a first-generation college graduate. Miguel actively engages with his local community as an education advocate and charter school board member.
When he's not teaching his eight-year-old daughter to skateboard, or showing her his favorite '70's kung fu movies, he's probably learning how to play her latest favorite video game. Miguel's family loves to take neighborhood bike rides and hike in the mountains in the summer. Miguel says life is good when he is surrounded by family, laughing and going on an adventure.
Bernard McCune is the Senior Executive Director of Career and College Success with Denver Public Schools. Bernard returned to DPS in 2019 from RootED -- a philanthropic organization in Denver dedicated to a quality public education for all students -- where he served as a founding partner and Chief Portfolio and Talent Officer. Prior to joining RootED, Bernard served the Oakland Unified School District as Deputy Chief of Post- Secondary Readiness, providing leadership for district schools, principal supervisors and principals implementing college and career initiatives. Bernard held a similar role in DPS from 2012-14 as the head of the Office of College and Career Readiness, developing strategies that led to increased achievement in graduation rates, Advanced Placement, concurrent enrollment and the growth of career and technical education.
Bernard spent nearly a decade working in Chicago Public Schools, where he teamed with then-Superintendent Arne Duncan to create what became a national model for increasing college access and success among low-income students, and with then-Senator Barack Obama to increase federal funding for district initiatives that increase post-secondary readiness and success.
Senator James R. Coleman was born and raised in the Park Hill neighborhood of Denver and is a resident of the district he so proudly represents: Senate District 33. Coleman served his first term in 2016, becoming the youngest elected to Colorado's state legislature. After serving 2 terms as the State Representative of House District 7, he went on to win his election to the Senate District 33 seat in November 2020. Senator Coleman currently serves as Chair of the Senate State, Veterans, and Military Affairs Committee, Vice-Chair of the Senate Business, Labor, and Technology Committee, and Vice-Chair of the Legislative Oversight Committee Concerning Colorado Jail Standards. The Senator also serves on the Senate Appropriations Committee, the Legislative Council Committee, and the Colorado Youth Advisory Council Committee.
Board Member & Alumni Partner
My name is Jeri Marie Romero. I am a wife and a mom to a brilliant 3 year old son, and 9 month old sassy little girl! I graduated from Denver West High school and followed in the education direction at the University of Northern Colorado. Not long after, God graciously gave me a way to my alma mater to be a teacher/mentor with Colorado Uplift. I've been a part of Colorado Uplift since I was a high school student. I loved being one of the first interns to pioneer the first summer camp internships as one of my first summer jobs.
Colorado Uplift has been providing leadership and character instruction in the public school system for students from 4th grade through college for over . Along with the In-School Program, Colorado UpLift regularly mentors students after school and throughout the summer, improving the odds for urban youth to emerge as successful, productive young adults.
Ana has over twenty-five years of nonprofit and government public service. Areas of experience include education, systems change, community building, leadership, program development, curriculum development, crime and victim services, youth issues, restorative justice, and equity training. The thread that is woven through both career and community is the work of bringing those who do not have a voice to the conversation. Ana joined Gates Family Foundation in June 2017 and her primary focus is to engage with communities in Colorado's rural and urban areas to increase equity and achievement for low-income students. Prior to Gates Family Foundation, Ana worked for the community with Denver Partners, Urban Peak, the Denver District Attorney's Office Juvenile Diversion program, the Denver District Attorney's Office Victim Services Network, and The Civic Canopy. She brings experience working with complex projects in education, health, and community-building in a variety of cultures and contexts. She is bilingual in Spanish and English.
At her core, Emily is a connector. Fueled by the belief that the whole is often greater than the sum of its parts, Emily has spent her career connecting donors to mission, partners to investment opportunities, and good people doing good work to one another. For the past 10 years she has raised capital to support social impact endeavors in policy, education and health equity spaces. Most recently Emily served as Teach For America Colorado's Managing Director of Corporate Partnerships and Communications. Today, she is the Director of External Partnerships in the office of the CEO at Gary Community Ventures. She is a mother, cancer-survivor, disability advocate, nature-walk-lover, and aspiring aviator.
Shontel Lewis was elected to the RTD Board of Directors in November 2018 and took office in January, 2019 representing the northeastern portion of of the Regional Transportation District. This area is comprised of Aurora within Adams County, City & County of Denver, and unincorporated Adams County lying south of Denver.
Shontel is a Colorado Native, transit rider and long-time community leader. She grew up in the Historic Five Points neighborhood and she is a proud graduate of Manual High School. Shontel serves as an Associate Director for the Community Engagement Strategy and Advocacy (CESA) team for the Denver Public Schools (DPS). In this role, she works directly with school leaders, families, and students to identify opportunities and resources needed to support.
Prior to that, she served as the Transit Equity Specialist at the Regional Transportation District (RTD). In this role, she worked towards social equity with the commitment to authentic community engagement and shared decision-making. She previously lead as the Director of Equity and Innovation at Project V.O.Y.C.E, a non-profit that she co-founded after the closure of Manual High School. ​
She is a proud Emerge Colorado graduate, a Mayoral Appointee to the Denver Women's Commission, and served on the Walk Denver Policy Committee, Denveright Community Think Tank and co-chaired the Advisory Board for the YMCA. Currently, she serves on the Board of Radian|Place Matters, a non-profit dedicated to creating healthy communities through a systems thinking approach that prioritizes creative community engagement, participatory design, and increased social equity.
Shontel is committed to equitable access, removing barriers and bringing diverse representation of all communities into RTD decision-making.