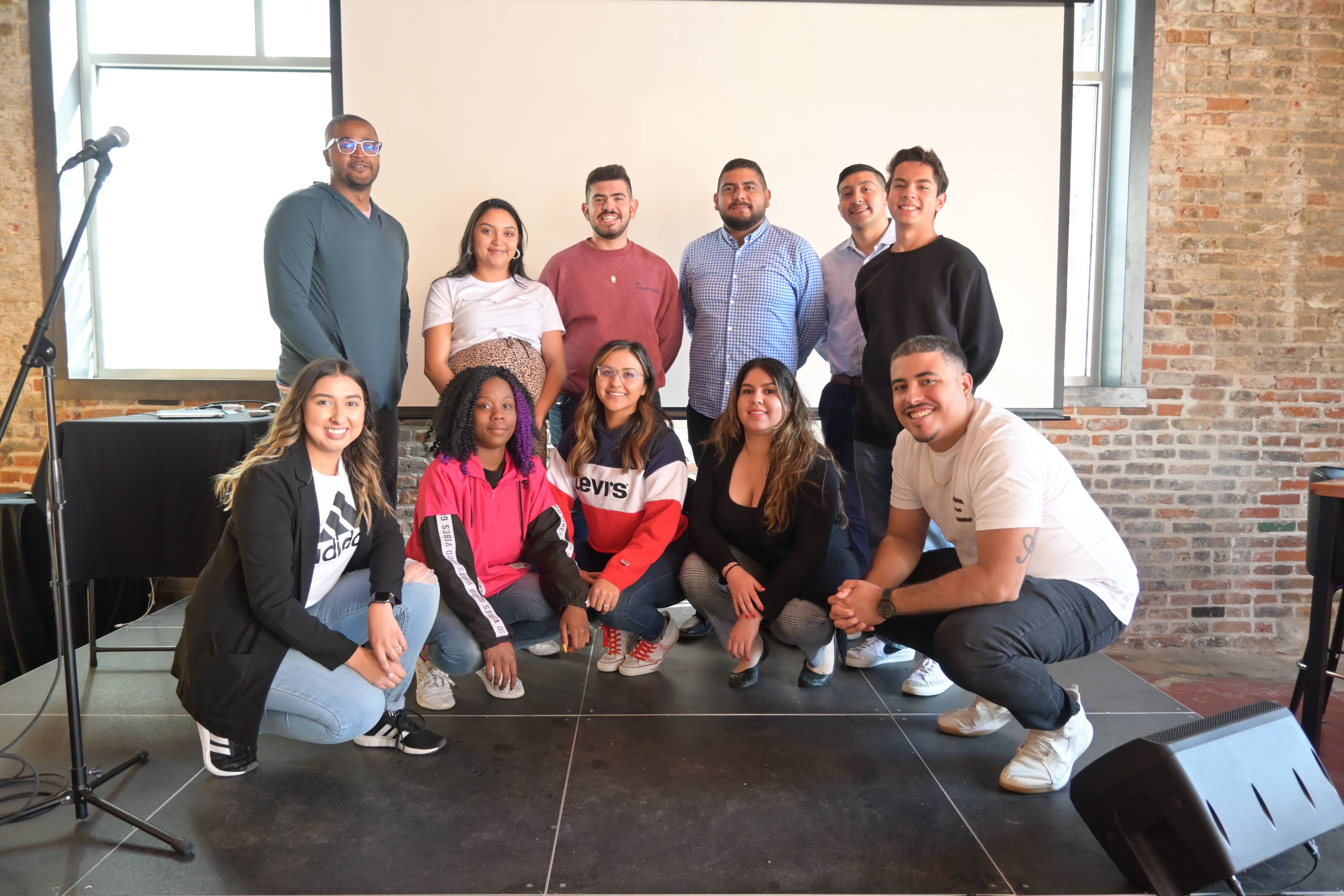 " Ednium has allowed me to discover my leadership style and what kind of leader I want to be. Ultimately, it is my goal to apply these skills in my future professional career as a physician-scientist. "
- Odalis Castro, Biomedical Engineering
The Launchpad:
There's no question that students graduating from Denver Public Schools, who are majority Latinx and Black, hold value and relevant assets. Yet they are consistently overlooked by and excluded from the power structures that implement the very policies and programs that impact them and the communities they represent. Ednium exists to reverse that and we're doing it in part by creating a new approach to leadership development.
Our Launchpad provides a space for individuals who attended a DPS high school between 2009 and 2022 to build personal and professional skills and expand their social infrastructure. And you don't need a GED or high school diploma, or a college degree, to participate. Every voice, every story, every lived experience matters.
The Launchpad is different because it's rooted in upending the cycles of injustice that exist in our public education system. This is where we see and experience racism, economic inequality, and housing and food insecurity (to name a few) and the impacts they have on Denver students. These are the issues that most deserve our collective attention and this is why we need a leadership program that recruits leaders from communities that have real experience dealing with some or all of these injustices. Investing in the talent that already exists within our communities offers the best chance to make impactful, sustainable improvements in DPS and to build generational wealth and success for families.
Participants of the Launchpad take another step in changing the way our city educates and reinvests in its homegrown talent, joining over 40 other Launchpad graduates who have already made tangible change through Financial Literacy and Ethnic Studies curriculum in the Denver Public Schools. Support of this program will not only make a difference in the lives of the Alumni but in the generation that follows them.
Applications should be DPS graduates / high school attendees from the years 2009-2022.
Key Dates
September 10, 2022 - Welcome and Session One
October 8, 2022 - Session Two
November 12, 2022 - Session Three
December 10, 2022 - Session Four
January 14, 2023 - Session Five
February 11, 2023 - Session Six
March 11, 2023 - Session Seven
April 8, 2023 - Session Eight
May 13, 2023 - Session Nine
June 10 & June 11, 2023 - Session Ten & Celebration
PROGRAM THEMES
STORYTELLING
We will utilize our lived experiences as a source of expertise
COMMUNITY BUILDING
We will cultivate authentic relationships with other DPS alumni and Ednium partners committed to social change
COLLECTIVE ACTION
We will build civic capacity to identify, advocate, and implement tangible change in the Denver community
LEARNING OUTCOMES
As a result of the Leadership Launchpad, participants will be able to:
Communicate their ideas and perspectives effectively in small conversations and group interactions
Utilize their network and social capital for personal and professional development
Identify community issues and work as a collective to brainstorm and implement solutions
Interact with and influence community decision-makers by asking thoughtful, interrogating questions
Take ownership of their individual power and be a confident risk-taker
COMMITMENT
Ten sessions from June to October 2022
Sessions will be held in-person every other Saturday from 9:00am - 1:00pm
All sessions will be located at the University of Denver
Parking and food will be provided
Orientation and session one takes place June 25, 2022